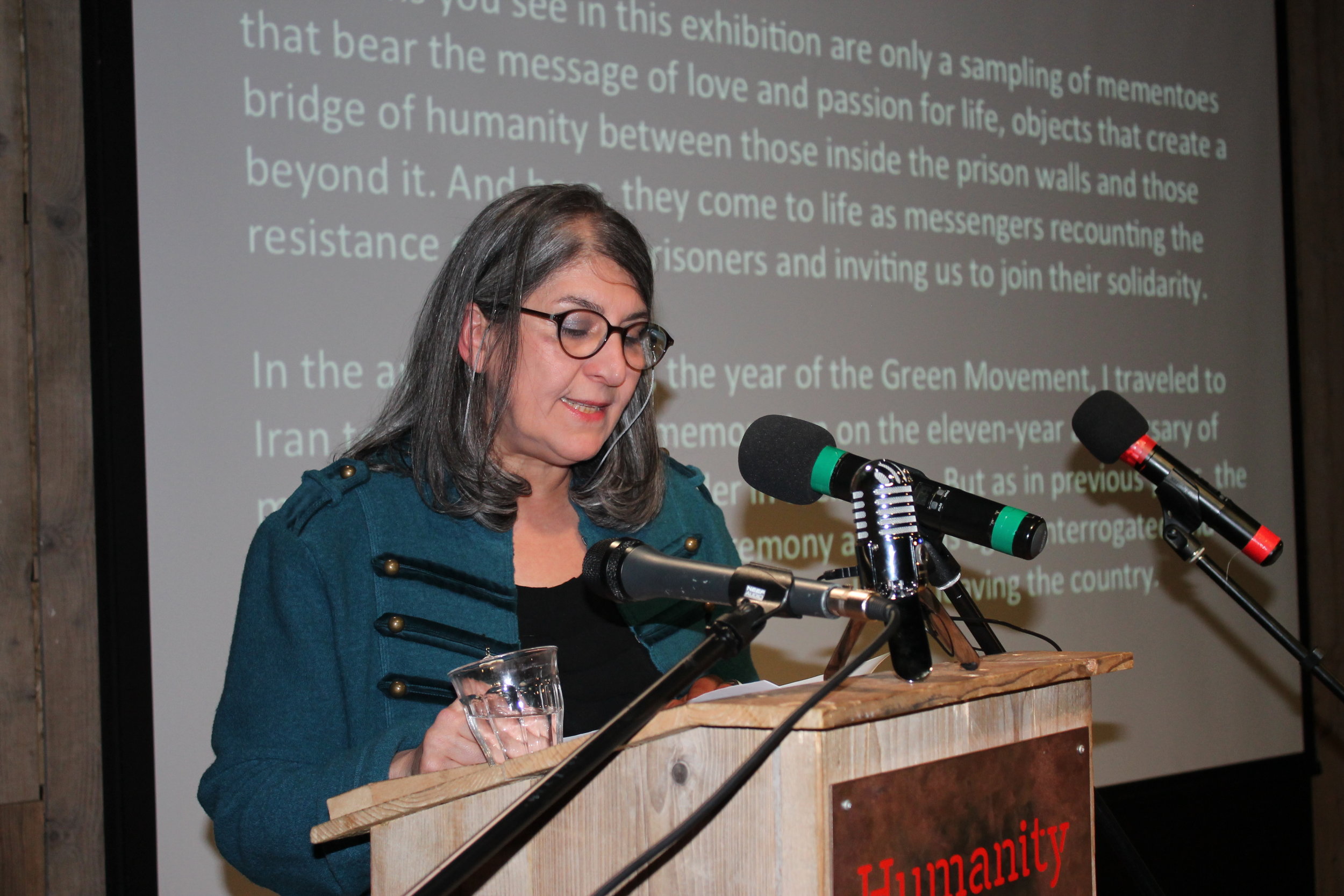 The opening of the exhibition we have gathered here to see is a beautiful small step toward a greater hope and idea – a museum that represents the women's movement in Iran.
Like all other ambitious goals, the realization of such a grand plan has been and will be challenging. It can only be accomplished and come into being if we believe it to be a fluid work-in-progress and consider its creation a process that delves into the past with curiosity and fairness and realizes the present's plurality and range of realities. It is only then that it can serve to support the struggles of Iranian women for justice and equality and become a venue to illustrate and relate their efforts. To this end, what better and more appropriate beginning than an exhibition of handicraft by women political prisoners.
In our autocratic country, across the span of different eras, many prisons have been built to oppress those seeking freedom and justice. But these same prisons have also turned out to be the bedrock of resistance. Evin Prison not only has a place in the history of tyranny in our land, but it is equally prominent in the chronicle of our fight against that tyranny.
The items you see in this exhibition are only a sampling of mementoes that bear the message of love and passion for life, objects that create a bridge of humanity between those inside the prison walls and those beyond it. And here, they come to life as messengers recounting the resistance of women prisoners and inviting us to join their solidarity.
In the autumn of 2009, the year of the Green Movement, I traveled to Iran to organize a commemoration on the eleven-year anniversary of my parents' political murder in their home. But as in previous years, the government banned the ceremony and I was again interrogated and investigated, and for a period barred from leaving the country. It was during that time that Mansoureh Shojaee called and discretely invited me to a meeting in the basement of a friend's place of business. There, the women who had gathered excitedly spoke of the demonstrations, of the chases and escapes, of the people's unity and solidarity. Wearing their green bracelets, they even laughed as they talked about being arrested and beaten. It was as if they had amassed their energies to preserve a rare and precious event that was still alive and defying suppression.
It was there that I first heard about the plan for a women's museum. And today, as we celebrate its opening, a new movement of opposition by young women is gaining strength in Iran. Known as The Girls of Revolution Avenue, out on the streets, young women climb up a stand, take off their obligatory hijab, and wave it in the air – declaring that they are taking back control over their bodies, and symbolically illustrating women's liberation. Their arrests are not only meant to punish the individual but are intended to erase the image and notion of women's freedom.
With the hope of the tide turning to the advantage of Iranian women's call for justice and equality, I congratulate all of us on International Women's day, and I hope that this exhibition will inspire you into ever greater solidarity with the Iranian women in this resistance.
Translator : Sara Khalili